**UPDATE!** Thanks to your generosity, we raised $15,242 during the matching period. Every dollar was matched! Thank you for your support.
Do you want to double your impact and help fund the construction of the Carmel Swim Academy? Thanks to a generous challenge grant of $12,000, every donation we receive between December 11 and 23 will be matched dollar-for-dollar to support CSA.
Today, we are nearly halfway through this campaign and have raised more than half our goal! We have received generous gifts totaling $7,440 since December 11. Will you help us raise the remaining $4,560 to secure the full challenge grant? Curious about the impact your gift might have? Any amount you can donate will help with Carmel Swim Academy construction and programming: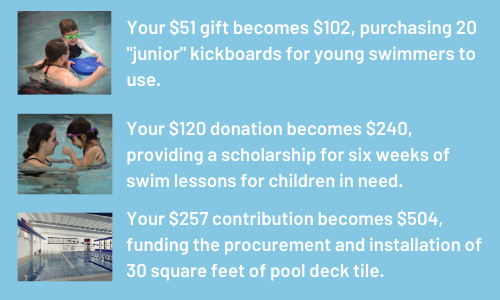 You can make your gift today by clicking the "donate now" button at the top right-hand corner of this page, or by mailing a check to Carmel Swim Club (515 E. Main Street, Suite 100, Carmel, IN 46032).
Thank you for your support! If you have any questions, please contact Maggie Mestrich (mmestrich@carmelswimclub.org).