We firmly believe that everyone deserves to carry the life-saving skill of knowing how to swim. Our promise is to provide the highest-quality swim instruction from professional and friendly staff, making our community safer with each person who learns to swim. CSA is our community's welcoming facility designed with your family in mind, offering exceptional programming for all ages and all abilities. With safety as our top priority, families can trust that children are safe while they have fun and grow their confidence in the water. Swimming is for everyone and everyone belongs at CSA.
The Carmel Swim Academy offers a variety of options for your family! CSA's proprietary curriculum features lessons for infants and children ages six months and older, as well as for teens and adults. Lessons are separated into specific tracks based on both a swimmer's age and ability level to best meet their individual needs. From an ADA-compliant lift into the pool, to accessible locker rooms, to private lessons, we ensure that swimming is for all with our adaptive aquatic options. For more information about the skills and progressions between levels, please click here.
CSA Free Swim Lessons
Carmel Swim Academy wants every child to have the opportunity to learn to swim. If your family is experiencing financial hardship, and you are interested in signing your child up for our programs, please complete our free swim lesson application form.
Session and Class Details
Sessions for all Carmel Swim Academy programs are offered monthly and run three to five weeks, often in alignment with holiday and school break schedules. To meet the flexible needs of your family's schedule, the Carmel Swim Academy does not automatically re-enroll you for subsequent sessions. Class durations align with children's ages (35 minutes for children ages 3-7, 45 minutes for children 8 and older). Costs within each session are $32 per lesson for children ages 7 and younger, and $37 per lesson for swimmers 8 and older. Upcoming sessions include the following dates:
September 5-October 7 (

enrollments after the session has begun will automatically be pro-rated

).
Fall Break Mini Session: October 12-14 (registration opens September 18).
October 16-November 18 (registration opens September 25).
November 27-December 23 (registration opens November 13).
Create an account on our customer portal to ensure you are notified of upcoming session dates, enrollment opportunities, and programs!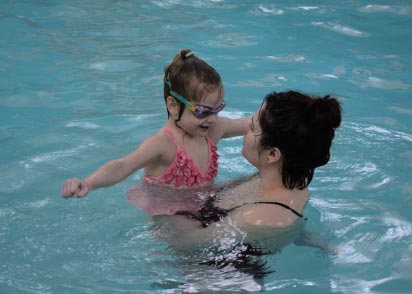 Carmel Swim Academy Highlights
Programming for all ages + abilities
Optimized, skill-based instructor to child ratio
Safe environment with lifeguards
Work station with wifi for caregivers
Free swim lessons to families experiencing financial hardship